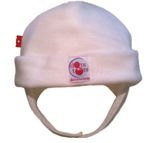 Organic Cotton Baby Noise Reduction Hat
$38.00 Sale 33.99

100% certified organic soft knit cotton

Double layered, seamless (internal seams)
Soft velcro closure
Fabric is manufactured in the USA

Made in USA
Size Chart
To enlarge - click on the image, double-click to make it small
Different views:
to enlarge - click on the image, double-click to make it small
Noise Reduction Hat for newborns and infants:

Features inserts that protect your baby's ears form loud, potentially harmful outside noises
Flaps have 3 layers (inner layer is made from lightweight organic fleece for extra comfort)
Pockets on flaps that contain 4 layered removable inserts made from natural hemp fleece
Our hat is designed to significantly reduce the outside noises and try to protect baby's ears as much as possible.
Our hat features 2 layers of Certified Organic Cotton on the flaps plus one extra inner layer of Certified Organic Fleece Cotton, which forms the pocket for the insert.
Insert is made from 4 layers of Organic hemp fabric (fleece-like material with fuzzy texture on one side to adsorb the sound). The insert is removable, so you can take it out any time and use this hat as a regular hat.
Our Noise Reduction Hat is a combination of Ear Protection Hat and infant Noise Reduction Hat in one. Our soft organic cotton baby hats feature a baby hearing protection inserts, which can be removed any time and you'll get a regular ear flap hat. Our hats protect baby's ears from loud noises. Take baby out to the game or to the fireworks - their delicate ears are protected. Flappy-Tappy Noise Reduction Hats are designed from stretchable organic cotton fabric to keep the hat in place, ensuring that your baby is comfortable and protected.